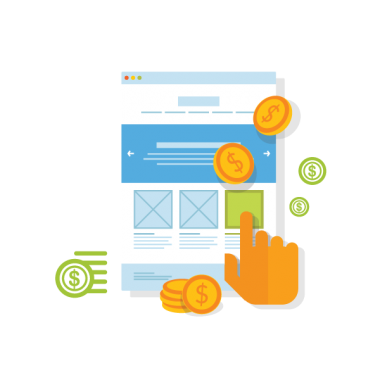 Pay Per Click (PPC)
Pay per click is buying visits to your website. It will help you to reach a larger audience and which lead the way to better position in search results. Basically, PPC is the marketing process where advertisers pay to the publishers when their ad is clicked.
Do you heard a little about PPC and want to start your own marketing? or you know thoroughly about this marketing technique but not sure where to start? Yes, you are in the correct place. We will make an outline, implement strategies, and will guide you towards the whole process.
We provide result oriented campaigns to assist our clients achieving what they want. we thoroughly monitor the bid prices to ensure that we are getting best results. Get started with pay per click advertising with us to expand the reach of your business site.
We are focused and trained. We analyse every detail which draws more potential clients to your website. We offer a complete PPC programme development with ongoing optimization and management. It delivers instant traffic and we can also integrate your SEO strategy with PPC campaign. It will ultimately develop your internet marketing strategy.
Paid Search Advertising
To earn improved ROI, you should try PPC advertising. It is the best return on investment. We will use your money wisely to increase your brand exposure.
PPC Remarketing
Turn your valuable 'potential customers' into 'loyal customers'. Our team of professionals will help you re-engage users who have expressed an interest by developing a strategy that will meet all your needs. We ensure that your ad dollars are spending on users rather pouring water into a sea.
Social Advertising
Social advertising would be the best compliment to any search marketing campaign. With almost 1.2 billion users, facebook is the most premier platform to spread your message to the maximum customers. Our expert team will evaluate a social media strategy to get the maximum outcome.
Display Advertising
Our team will make a strategy for display marketing to snatch the attention of your customer, convert them into buyer and increase brand exposure.
Video Advertising
Many people think, video adverts are out of their budget and don't want to spend more on this. Our team is providing exclusive and eye-catchy video adverts in a very affordable rate. Almost 6 billion hours of videos are watching each month on youtube. So, it is another great way to reach the maximum audience. We ensure the excellent way and as many potential customers see the ad as possible.
Our pro team can serve you with award winning ideas and performances. They are expert to run campaigns on Google Adwords, Facebook, Twitter, LinkedIn, and YouTube.
17
Video Advertising Projects
141
Display Advertising Campaign
98
Successful PPC Remarketings
315
Social Advertising Projects
Let Discuss and start the journey
Are you ready to see the power of pay per click?
Feel free to contact us for your any query. We are always here to help you.